← Back
J.L.LE MOIGNE propose the following comparison between the analytic (i.e., applying a reductionnist method of successive decomposition) and the systemic (i.e. using a wholesale approach) modes of modelization (1990, p.9):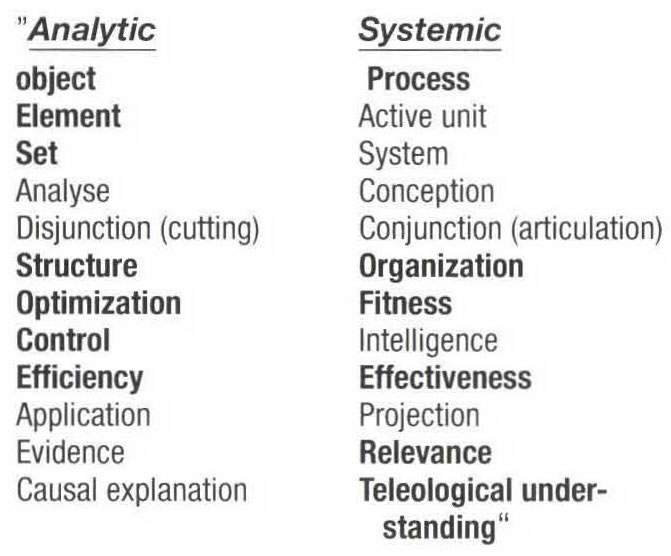 One wonders if the systemic way to "control" is not regulation or still better self-regulation.
Pleasantly, LE MOIGNE argues that cutting a sausage in regular slices can be satisfactory, but that the same method applied to a chicken would not give good results.
D. DURAND describes as follows the successive stages of modelization in systemic terms:
"- Identification and classification of the elements of the system (in order to distinguish) the elements in a number of classes… taking in account (their) dynamic as well as static properties… and establishing a certain hierarchy among them.
"- Defining the relations among the elements… This is usually done by establishing a matrix… which moreover allows to define the direction of the relations from one element to another.
"- Generalization which is the extension to the most numerous possible situations, of a model which has been found valid in a number of observed situations.
"- Induction, a more ambitious operation… which aims at the replacement of one or various given models by one more abstract and more universal one" (1979, p.58).
Categories
1) General information
2) Methodology or model
3) Epistemology, ontology and semantics
4) Human sciences
5) Discipline oriented
Publisher
Bertalanffy Center for the Study of Systems Science(2020).
To cite this page, please use the following information:
Bertalanffy Center for the Study of Systems Science (2020). Title of the entry. In Charles François (Ed.), International Encyclopedia of Systems and Cybernetics (2). Retrieved from www.systemspedia.org/[full/url]
---
We thank the following partners for making the open access of this volume possible: